How to Improve Last Mile logistics in 2021?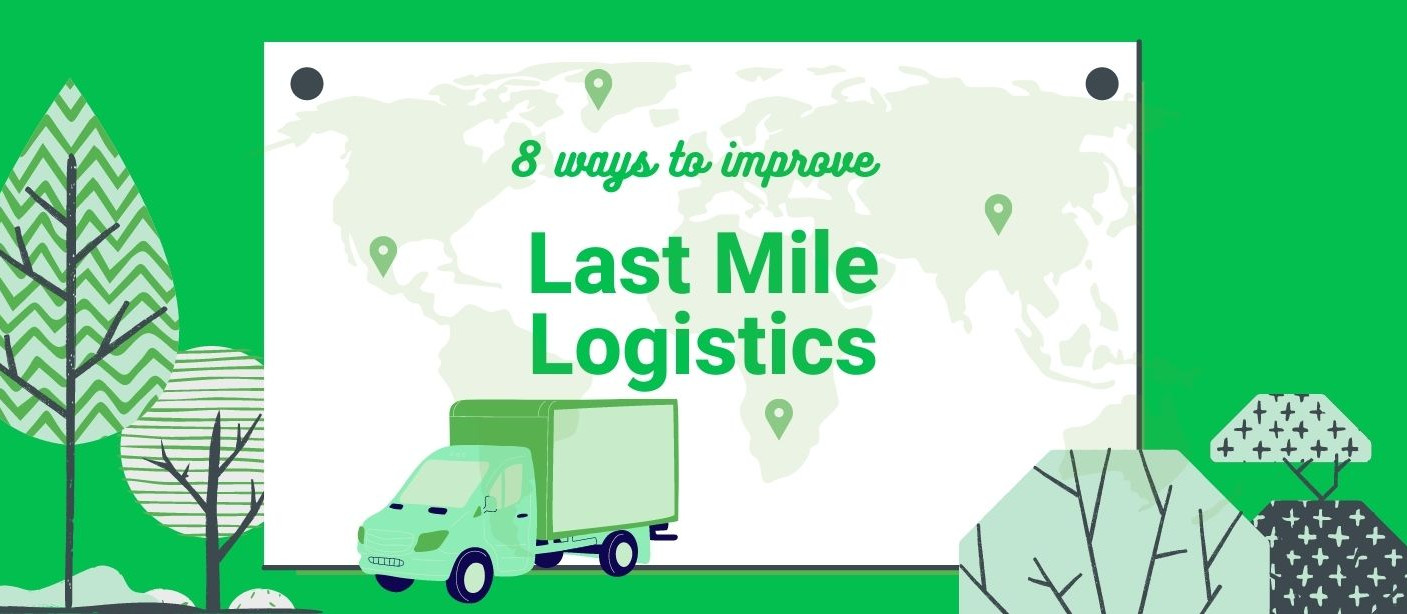 8 Effective Ways to Improve Logistics with Last Mile Delivery Management Software
In the age of global digitalization, smart businesses are growing rapidly to meet their distinct consumer demands. With it, consumer insists on getting real-time delivery experiences while tracking them all the way through. As a result, business enterprises have to modify their way to operate and get adaptable to the present market needs.
The increasing online shopping put relevant importance to the delivery system. Thereby the last mile shows the way how a parcel goes from a distribution sector to its final stop. The last mile delivery management software serves as a one-stop solution for all your tracking, shipment and delivery efficiency purposes meeting consumer demands.

Are you a business owner that administers delivery service to your clients? Then, you must have a clear concept of the last mile carrier which holds a significant part of the delivery process. Not all provide assembly service options or give services at a rebated rate. The size of the product plays a pertinent role so as to consider the packaging and shipping in a fit way.

A number of reasons lie in when it comes to the improvement of the final mile delivery and its process. In order to put forward excellent consumer experiences, enhancement of the same is of utmost relevance.
Unleash ways to improve last mile delivery process
Automating driver dispatch
With the help of auto-dispatching, one can easily diminish the service time as well as last mile delivery cost on time. It helps you to function in an expedient way avoiding the hassle of operating manually. You can get route updates on real-time that, in turns, ensure efficiency and cost-effectiveness.
The latest last mile logistics software facilitates in auto-assigning rules depending on the location and route distance of the driver. When you are able to manage automatically with just click of software, the movement becomes easier while saving several tasks for drivers.
Concentrate on the logistics information
Organization and management play a vital role in businesses. And if your data is kept in an organized way, you will be able to manage between fleets. Our last mile delivery technology is devised in a method that helps to centralize all your in-house logistics data in a specific location. The businesses should have conceptual clarity regarding the fundamentals of the nitty-gritty of last mile delivery system.
Real-time tracking experience
Marketers will always look to the platform which will set your business apart from other competitors. With the aid of the usps last mile structure, clients can experience premium tracking experience on the dot. The beneficial of the process provides exact ETAs, live driver locations and route distance in just a single stop. Our technology helps consumers to real-time track their online orders as well as tracks the vehicle carrying the parcel product.
Read more: Top 9 delivery management software companies in 2021
Automating route distance planning
While planning and delivering logistics, the general process that happens are different products at different locations. Thus, the route never gets straight and can be twisted. At the ultimate point, they get their covered miles and total time spent along with gas expense. Automating routes by dint of the operational last mile delivery management software helps to optimize route distance and make sure that all items are delivered effectively.
The growth of your delivery company depends on the smooth functioning and efficiency of the delivery route optimization and route planner software.

The technology functions by automatically administering time, location, traffic situations and vehicle weight to lead the most efficient route. In case of road conditions or changes, it adjusts the route as per it showing the shortest route-way.
Closely monitoring driver performance
A significant prospect of the last mile delivery management software is it enables close monitoring of the drivers' performance. As a result, you can receive data relating to teamwork, on-time rates, customer feedback, service times, number of products delivered and distance covered in a day. Clients can store and record this data for preparing detailed reports. This assists your business to recognize the scope of improvement and concerns for the safety of products and drivers.
Develop communication with the driver
In addition to the fact that you want your clients to have the option to speak with your driver, however, you likewise need to have the option to speak with them too, regardless of where they are. The easy correspondences help to resolve issues and tackle them continuously. You can solve from the very root of the issue and get them before they get an opportunity to become issues.
Read more: 5 Ways Deliforce Helps You Manage Drivers
Faster fulfilment and delivery
Nowadays, amazon took the pledge to update to same-day delivery processes. More consumers are looking for faster delivery and thus, shippers find it significant to more parcels as faster as possible. With amazon last mile delivery, it has become easier to process shipments in the most efficient way. It leads to customer satisfaction with guaranteed delivery.
Last mile delivery insourcing
A number of last mile delivery companies have their own delivery services, equipments, manpower and vehicles which they use to transport products. However, due to lack of proper management tool, they are unable to optimize their services and generate increasing revenue with time.
The vacant place is filled by last mile delivery management software enabling smart optimization of services, organization of tasks, manpower-managing and efficient delivery with real-time tracking.
Such an advanced tool has the capability to let your customers acknowledge the start of delivery, route knowledge and tracking ID with automatic status and notifications.
Final verdict
With the advent of smart technologies, logistics services have evinced its revolution with passing time. In addition to time management, it reduces labour and diminishes additional cost. All businesses always look forward to efficient efforts for its growth and expansion. This has become effortless with the latest last mile delivery management software and its exclusive features.