Top 10 Last Mile Delivery Software Companies in USA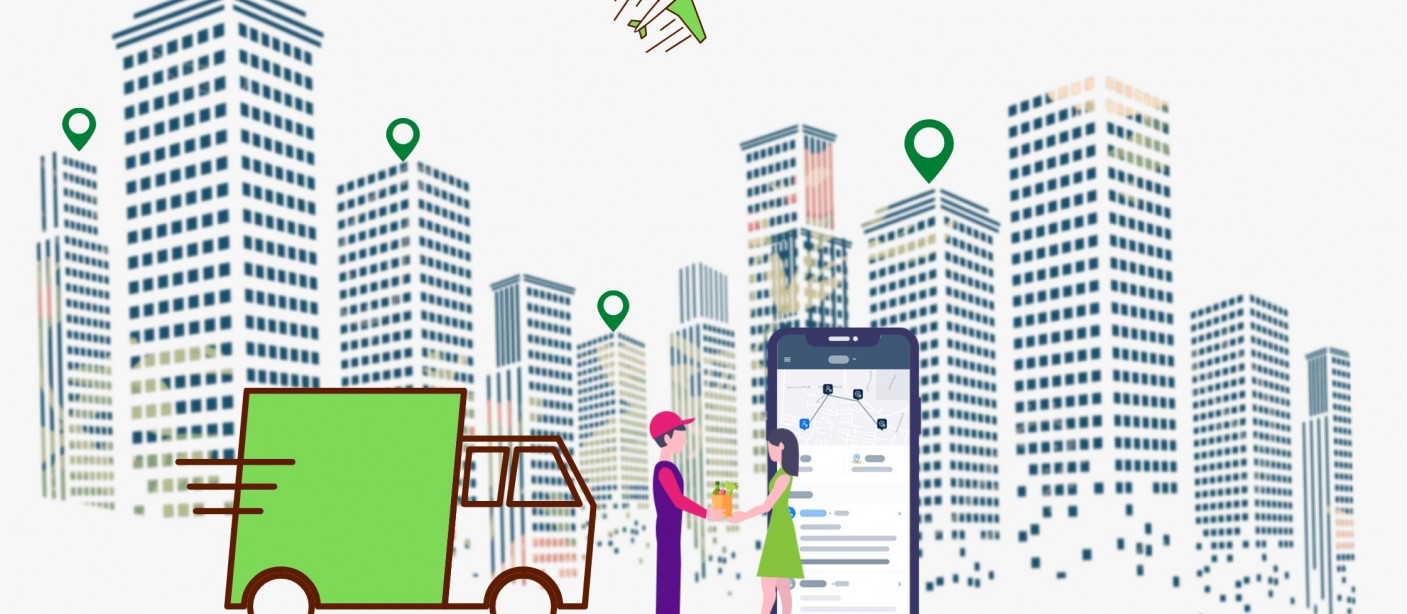 Last-mile delivery is the final step in the supply management chain of a logistic business. Compared to the traditional logistic business, the performance of the company has tremendously enhanced due to the advent of new technologies and innovations like logistics management software. Last-mile delivery software helps mainly in real-time tracking of the delivery agents, smart route optimization, and on-time deliveries. Nowadays, the idea of last-mile delivery has transformed into innovative smart solutions where products are delivered with the help of drones, self-driving cars, robots, electric vehicles, etc. When we focus on the last mile delivery software companies in the USA, we can point out the best companies that have completely changed the pattern of logistics business to ensure ultimate customer experience and rapid deliveries. Let's have a look at the top 10 last-mile delivery software companies in the USA.
Deliforce
Deliforce is the ultimate SaaS-based last-mile delivery management software company in the USA. Launched in 2018, this last-mile logistics software offers hassle-free real-time tracking of delivery agents, field-force management, and logistics solutions across many business sectors such as retails, education, manufacturing, logistics, beauty, banking, healthcare, pharmacy, healthcare, etc. With a team of dedicated professionals, they handcrafted unique solutions for maximizing the business profit and to turn businesses into a unique brand identity. Deliforce provides unique features and functionalities such as smart route last mile optimization, streamlining of tasks, extensive dashboard features, real-time updates, push notifications, interactive analytics, and easy integration. Deliforce focuses on delivering the best logistics solution meeting all the requirements and preferences of the customers. They provide user-friendly, easiest-to-use, innovative, and scalable logistics management software that improves your business supply management chain and tackles all the complex delivery problems. They have already extended their seamless services to many businesses to automate and simplify their dispatching, tracking, and routing operations.

Starship Technologies
Starship Technologies is one of the best last-mile delivery software companies headquartered in San Francisco, United States. It was founded in 2014 by Skype co-founders, a pioneering robotics technology company that works with an insight to build custom-robots to deliver goods at customer's doorsteps. The robot-aided logistics management software for food and package deliveries is a revolutionized option for people who live away from the cities and at the same time, removes some amount of traffic from roads. Customers can order via apps that the six-wheeled droids move through the urban streets to deliver packages within 30 minutes. Since it replaces humans, it makes local delivery faster, smarter, cost-effective, and can be tracked within a range of 2 miles. They have collaborated with companies such as Swiss Post, Domino's, and Postmates that claims to have covered 100,000+ km on public sidewalks.
Nuro
Nuro is focused on last-mile deliveries where a fully-autonomous delivery vehicle that is low-speed, local, and last-mile. The company was founded in 2016 and has its headquarters in Mountain View, California. Nuro can take-out your orders such as groceries, laundry, etc. It is believed that Nuro could be the future of door-to-door delivery. The driverless prototype has a height and length of a normal SUV and a one-meter width with a cargo capacity of 115 kilograms. Nowadays, consumers are more interested in ordering items online than ever before. Thus the existing trend can be tackled with the help of robotics and self-driving cars, where all challenges concerned with last-mile delivery can be solved. Nuro's vehicle's guidance system is in a canister mounted atop a crossbar with soft edges, which looks like a rectangular vehicle. One of the main highlights of this last-mile logistics software is that it reduces traffic accidents and boosts local businesses. This final mile delivery software 2020 is designed for remote operation; a boon for many people living in remote areas.
LogiNext
LogiNext is a customizable last-mile delivery software company that offers the best solution for logistics service management and optimization. Launched in 2014, it is one of the fastest-growing last-mile logistics software providing automated delivery route planning and optimization, real-time field workforce tracking, management, and resource allocation, etc. LogiNext has headquarters in California, Fremont, and Mumbai, India, and has already served more than 200 enterprises worldwide reducing their costs of logistics & resources by an average of 18%. Recently, they have introduced a unique way that clients can easily talk to their digital assistants like Amazon Alexa or Google Assistant to get all necessary information. It helps to instantaneously manage logistics operations. This last-mile logistics software offers easy integration with multiple platforms and allows other businesses to create a system that can work with the current infrastructure by connecting with a variety of APIs. They have already extended their seamless services to more than 80 countries across different verticals such as retail, food, e-commerce, and beverage.
Postmates
Launched in 2011, Postmates is an urban last-mile delivery software headquartered in San Francisco, USA offering on-demand last-mile delivery services that connect customers with local couriers. They ensure that all products will be delivered within an hour removing all the hassles in deliveries offering better customer satisfaction. Customers can order their delivery from any of their favorite local stores and can watch in real-time that their order will be delivered at their doorsteps. This final mile delivery software 2020 works with an insight to empower communities to shop local, helping them to grow through their marketplace. Having more than 500,000 fleet members, 600,000 merchants, Postmates' logistics management software has served more than 80% of US households across 50 states.
Matternet
Matternet is a last-mile delivery software USA headquartered in Menlo Park, California. Launched in 2011, it is a platform offering end-to-end delivery services to different industries such as healthcare, e-commerce, and logistics organizations through drone delivery. As it integrates the Matternet M2 Drone, the Matternet Station, and the Matternet Cloud Platform, it helps to send and receive packages 24/7, generates routes, monitors, commands, and controls all operations. It has an easy-to-use interface, automated payload, and battery exchange. One of the important features of Matternet logistics management software is that it eliminates traffic because drones take the sky and deliver products at customers' doorsteps. The company raised $16M dollars in June 2016 by the Boeing-Led Investment round.
Deliv
Deliv is one of the best last-mile delivery software companies offering same-day delivery services with the help of crowdsourced drivers. Launched in 2012, Deliv has headquarters in Menlo Park, California, USA providing same-day delivery services to over 4,000 retailers and businesses across a range of products like brick and mortar, etc. It consists of Macy's, Bloomingdale's, Google Express, and Best Buy. It creates a crowd-based delivery network that helps to mobilize the team of drivers with a GPS-enabled smartphone. Deliv is the leading and successful last-mile logistics software among 35 markets offering same-day services with a group of remarkable clients including Macy's, Walmart, Best Buy, Giant Eagle, and PetSmart. In February, the company introduced Deliv Rx, for same-day deliveries in hospitals, pharmacies, and other medical companies.
Roadie
Roadie is a logistics management software launched in 2015 and has headquarters in Atlanta, Georgia, USA. Roadie works with a perspective that they recruit drivers who are already travelling in the right direction to make a delivery rather than summoning a driver for the deliveries. The company's collaborative model is disrupting the logistics industry, enabling fast, flexible, scalable, and cost-effective deliveries. Having more than 150,000 verified drivers who have delivered goods to more than 13,000, Deliv has become the largest local same-day delivery company. The logistics software for delivery has served more than 9,000 cities in the US which is bigger than the footprint of Amazon Prime.
Amazon Flex
Founded in 2015, Amazon Flex is a network of contracted last-mile delivery drivers offering last-mile carrier tracking & delivery services. The company is owned by Amazon and headquartered in Seattle, Washington. The drivers collect the deliverables from the distribution centers and deliver them to the customer's doorstep. The drivers must meet some specific requirements to work in Amazon Flex. Drivers will be able to make their own schedules but need to pay for their own gas and vehicle requirements. This logistics management software isn't available everywhere, but Amazon is planning to flourish the business.
Onfleet
Onfleet is a San Francisco-based last-mile delivery software company offering end-to-end last-mile delivery services that streamline all your delivery business operations. Founded in 2012, Onfleet works with a customer-centric approach that focuses on route planning, dispatching, communication, and analytics. With the help of innovative technologies, the most advanced logistics management software improves the efficiency of the business processes, scale operations, and gives complete customer satisfaction. Onfleet has extended its services to thousands of companies such as food and beverage, retail, e-commerce, furniture, pharmacy, and more.
Conclusion
A last-mile logistics software fully optimizes and automates your logistics business that suits the needs of the end-users. Delivery management software helps in attaining business efficiency in the whole delivery ecosystem to make your business into a unique brand identity. Choose a good and efficient logistics software for your business that ensures timely deliveries and runs smoothly to tackle any issues easily and accurately.
Read more: Top 9 delivery management software companies in 2020