Top 5 Best Delivery Driver GPS Apps for Delivery Business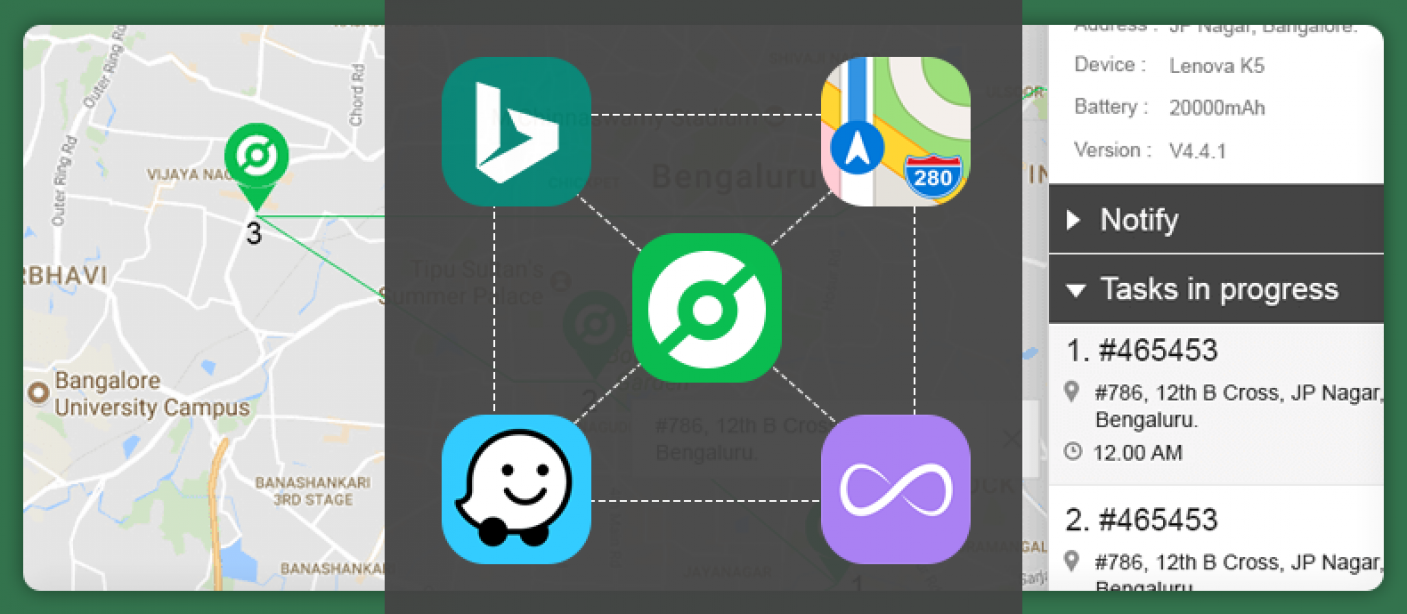 There are businesses that make deliveries that are required to streamline the various delivery processes providing a better experience. At times, GPS tracking also cannot serve the purpose of tracking, navigation, and optimizing routes. This stresses the importance of the delivery tracking software for small and medium-scale businesses.
The system works on the model of administering traffic tracking, driver location, route planning, and many more. This platform serves as a potential system for drivers enroute. They get optimized routes which, in turn, saves money and time while giving a better experience to drivers as well as customers. In this blog, we have discussed the distinct facets of the delivery driver app and how they are useful to the delivery business in this 21st century.
Introduction to the Delivery Driver App
The Delivery dispatch software can be defined as a platform that administers complete navigation to the delivery route and location. On one hand, GPS apps can offer a complete personalized experience, the delivery tracking system is the best device for drivers who receive complete route planning, optimization, and knowledge about the location of delivery.
The addition of the great features has enabled drivers with ease of usage, live GPS tracking, driver notes to advance customer service, and perform efficient delivery. In this context, we will have the idea of why delivery driver systems are preferable to GPS navigation apps and the important delivery tracking apps that are leading the market scenario.
What Are The Issues of GPS Navigation to Optimize Delivery Routes?
A GPS system is also useful but it lacks the potential features that a driver tracking system offers to businesses.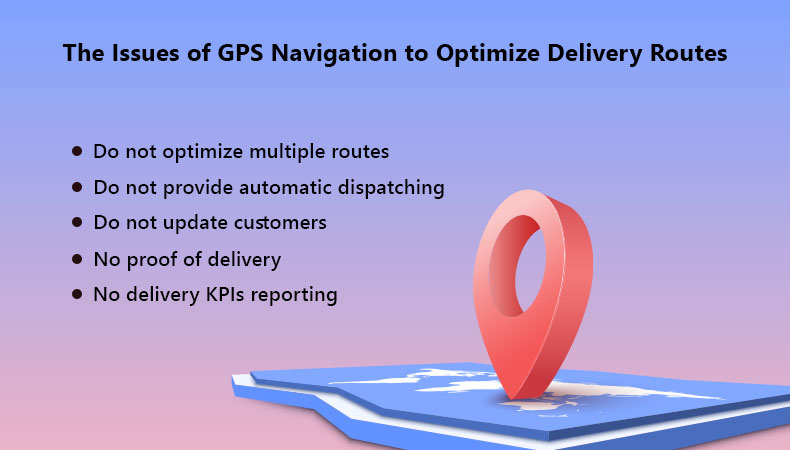 Do not optimize multiple routes
If a driver spends more time on a route, this affects on extra fuel surcharge, more labor costs, and thus, the other customers wait for a longer time. With the effective adoption of the delivery tracking system, you can get easily optimized routes for completing multiple deliveries. The GPS system isn't that capable of providing efficient route planning.
Do not provide automatic dispatching
The standard navigation tracking system has various manual works too. High chances remain in situations of manual handling of Automatic dispatch is a very good feature of the GPS vehicle tracking system. With the help of the system, drivers can get auto notification alerts. After finding the best route, this system enables you to locate and auto-dispatch the available driver on the field. The execution of the route optimization system not only helps in auto-dispatching but also eradicates manual dispatching.
Do not update customers
The GPS system does not administer real-time shipment status updates and delivery alerts to the customers. It is not designed in a way to provide any updates to the customers. However, these problems can be solved by the delivery route system. With the active execution of the delivery tracking system, customers can get updates on the various order status, delivery notifications, alerts and can also track orders in real-time.
No proof of delivery
In the delivery and fleet management business, proof of delivery is a very significant aspect that helps to protect your company from fake claims of undelivered parcels. The proof of delivery is considered as a digital proof of signature on receiving the product after it is delivered to the customer. This is effectively done with a delivery driver route planning app and its unique features.
No delivery KPIs reporting
The normal navigation apps are not integrated with delivery KPIs and therefore cannot keep track of the different delivery operations. On the other hand, the delivery tracking system is integrated with delivery KPIs so that by tracking delivery processes. Thus, one can make an improvement over the course of time.
What are the benefits of the Delivery Driver Route Optimization System?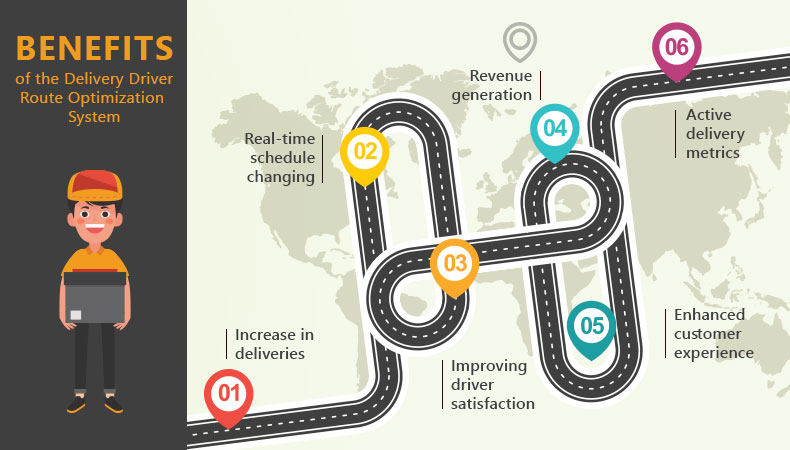 The Deliforce delivery boy tracking system has a huge advantage when it comes to the delivery industry verticals.
As a result of the route optimization system, your delivery capacity gets increased with time. With effective route optimization and planning, drivers are able to make more deliveries within a single day. With more deliveries, developing business would become easier and therefore generating more revenue. This also helps to prevent the ineffective loading of parcels and enhances work productivity.
Real-time schedule changing
The delivery routes planner is developed in a way to provide real-time scheduling updates even in unexpected situations such as in case of road, traffic, accidents, and many others. Drivers receive real-time updates with the schedule changing.
Improving driver satisfaction
As a result of the route optimization system, the drivers are able to get optimized routes of the delivery location. With the receipt of the optimized routes and getting details of the route, the driver acknowledges the exact location and time required to do so. With real-time optimization, drivers will not face the problems of traffic and road work. They can carry on smoothly the deliveries.
As businesses opt for delivery management software, they can evince an increase in the number of deliveries. As the number of deliveries increases, the revenue will also increase with time. With efficient route planning, the road covered is also less and thus, the fuel spent is also lower.
Enhanced customer experience
The delivery route optimization software has been developed by experienced developers who have expertise in building route tracking systems for an increase in customer experience. Owing to the on-time deliveries, real-time order updates, estimated time of delivery, and many others. By means of implementing the Deliforce, customers have the flexibility to communicate directly with the driver personnel.
By dint of keeping track of the delivery functionalities, one can make improvements to retain the effectiveness of delivery. The Deliforce route optimization system is developed with in-built reporting abilities which can be advanced and updated with additional features for increasing profitability with time.
With advanced KPIs, the system is aimed at administering:
Time of services

Successful delivery of parcels

Drop-offs and pickup

Timely rates
Delineating The Top Delivery Driver Apps
Are you looking for the best delivery scheduling software for our delivery business? We have given a list of the best delivery management systems so that you can consider opting for the right fit for your requirements.
Deliforce

Deliforce delivery system is the best last mile delivery solution that helps enterprises and businesses to accomplish all kinds of logistics and delivery operations. By using the effective application of Deliforce, the various business verticals are going to benefit in productivity, efficiency, growth, and customer experience. From auto dispatch to route planning, delivery management to route optimization, driver alerts, and so on, this system is created to serve as the perfect solution for all fleet operations.
Onfleet

As the advanced last-mile delivery system, Onfleet has a route optimization tool that determines the location, time, capacity, number of deliveries, and road congestion so as to promote effective route planning solutions. The auto-dispatch system diminishes the labor costs and service time by means of sending the driver to the delivery location. It helps to provide real-time data as well as tracking to keep monitoring the various operations of the fleet. With the seamless integration of the proof of delivery system, the users can get a receipt of the digital POD along with signatures and proof of delivery.
Waze

The real-time GPS tracking app, Waze is obtained by Google Maps during the year 2013. It comprises a large number of features that include user-given traffic updates, a combination of GPS data, as well as real-time user tracking to administer the best route optimized for users. Waze has an automatic interface to provide an enhanced customer experience.
Bing Maps

Bing Maps is designed by Microsoft and serves an integral role in businesses and enterprises. It helps to integrate development features and API capabilities into the system. The system is combined with route optimization software and thus of effective usage for delivery drivers. Bing maps are created in a way that can be customized to administer a visual representation of distinct types of internal business data such as that of business operations, other geospatial data, and many others.
Apple Maps

Apple Maps is one of the most user-friendly apps that run super easily on all apple devices. Apart from providing effective navigation, it helps you to find everything that is near you. Just as Google maps, Apple maps also work significantly when it comes to route tracking and logistics.
Conclusion
When delivery drivers get access to the effective route optimization system, they can make their delivery processes better than ever. For streamlining all delivery business operations, the Deliforce GPS vehicle tracking system has helped them in maintaining their business processes. It is a leading delivery management system that helps enterprises and organizations to perform the smooth functioning of their delivery operations and promotes efficient delivery of parcels. When customers will have faster deliveries, they are completely satisfied with it.