Five Untold Capabilities of a Delivery Software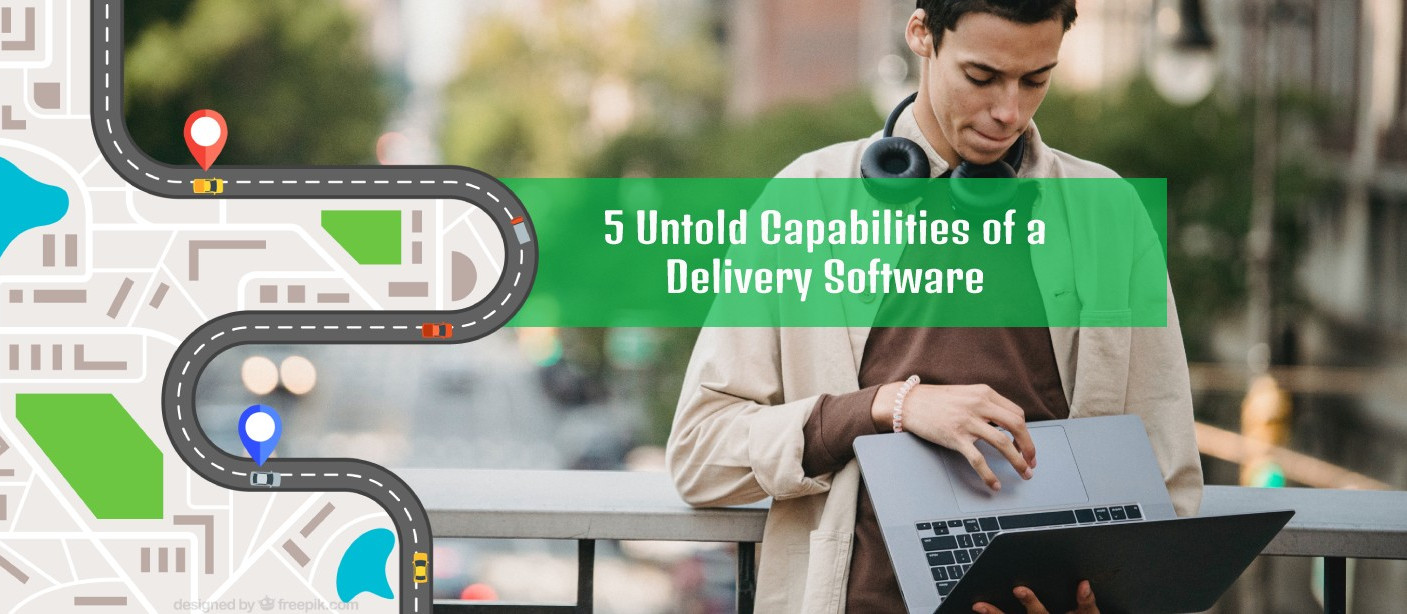 Most businesses need logistics operations at some point in their business process. This is true whether they sell to consumers directly or whether it is a business to business transaction. When business to business transactions are involved, the requirements tend to include a higher number of transactions but spread over a greater time. When the transaction is with a consumer, the time requirements tend to be more strict. But there has been a shift in the logistics industry these days.
Businesses are expected to deliver the shipments to their customers as fast as possible and as conveniently as possible. Online order, online payment, pickup, and delivery are some of the features that customers demand today. This has led to delivery software being capable of doing many things people may not know.
Delivery management software and its popularity have been on the rise even before the turmoil that happened globally in 2020. Since the pandemic, the awareness and importance of delivery software have only increased. The general public knows very little of the logistics business. Such software is considered to be essential but has minor influences on businesses.
The final phase of delivery of the product to the customer from wherever it is being storehoused is called last-mile delivery, and it is a critical part of the delivery process. The software that handles this part of the delivery is called last mile logistics software, and they can have surprising features inside them. These features may not be necessary for all businesses, but they are designed to increase the sales of the business that can leverage them.
Five interesting things delivery software routinely do
Things like route planning and street view are common traits of delivery management software because such software cannot function without them. But increased market demand has forced software designers to include ever more features into delivery management systems. Many companies use the new features although this is not an exhaustive list, here are 5 things that delivery management software routinely does that many people do not know.
Sending Customer Notifications
Last-mile logistics software these days is equipped with state of the art technology that handles most of the notifications that are necessary between consumers and businesses. Notifications are absolutely necessary as they facilitate trust and increase customer satisfaction. Most delivery software can automatically send custom messages to every customer they interact with. According to the prominent SupplyChain magazine, it has now become a minimum requirement for companies to have functioning notifications to consumers. Such notifications are often interactive in nature, and consumers can get their complex questions answered just via these notifications.
Read more: Top 10 GPS Fleet Management and Tracking Software
Flexible Dispatch System
Delivery management includes automated delivery dispatching and scheduling techniques completely taking over the order dispatches. This is not only manageable but recommended during present times. At peak hours there can be a huge price to pay for small mismanagement of orders. Customer satisfaction is seriously taken into consideration for each order. Because there is a significant human element involved in deliveries, the odds are weighed heavily against the business unless they go for this option. For most businesses, a dispatch system that is both automated and flexible enough has become a necessity for their operation.
Instant Feedback Features
Customer feedback is extremely essential for any business but for the logistics sector, in particular, this is extremely important. Delivery scheduling and dispatching technology make sure that every order is rated both by the customer and the delivery agent. This is made so as to get the unbiased opinion of both parties involved. The feedback feature is made secure so as to reduce or eliminate fake feedback. The feedback features are made instantaneous so that precious time is not wasted in it. Usually, a rating system is used which is both fast and objective enough to help make the delivery process more efficient.
Read more: Five Things That Will Change the Future of Your Delivery Business
Efficient Communication
The delivery management software is also fitted with some of the most efficient communication features. Such communication is necessary both for the delivery agents and the consumer. The delivery agents need efficient communication between them so that the right orders are instructed to each agent. Consumers need efficient communication whenever they feel like it. They can communicate either using the notification service, or the in-app communication services present on the app. The communication is also encrypted so that third parties can not take advantage of the business or the consumer.
Detailed Analytics
In big business companies, there must be efficient regulation of the logistics sector, otherwise, huge losses can happen. For this reason, delivery management software tracks every aspect of logistics. Field force management, which is a term for analyzing every aspect of the fleet which can often deliver door to door is increasingly being used. When such management software is integrated into the business, losses from logistics reduce greatly. Analytics relating to sales and delivery efficiency can be easily seen using this software. Vehicle mileage, speed, and driver behavior can also be tracked, which helps the business maintain its fleet. This is also important for the growth of the business. This is because such analytics helps reduce errors and drives new creative solutions for last-mile delivery businesses.
Read more: How to Take Advantage Of Pharmacy Delivery Management Software
Conclusion
It is apparent that delivery software has increasingly become complicated over the years. They are used to maintain and increase consumer satisfaction and do not serve just a utilitarian purpose. They can be driving forces of revenue when integrated correctly in various business sectors. Deliforce is an ultimate delivery management solution that tracks every delivery agent in the fleet in real time. It provides the best route optimization options and includes mechanisms that help in the automatic dispatch of shipments as orders are shipped. it provides efficient task filtering mechanisms and also offers detailed analytics reports of everything that encompasses the supply chain. When integrated into a business, Deliforce can drive the sales of the company by taking control of its logistics sector.