How Last Mile Delivery Helps in Setting Milestones on A Competitive Edge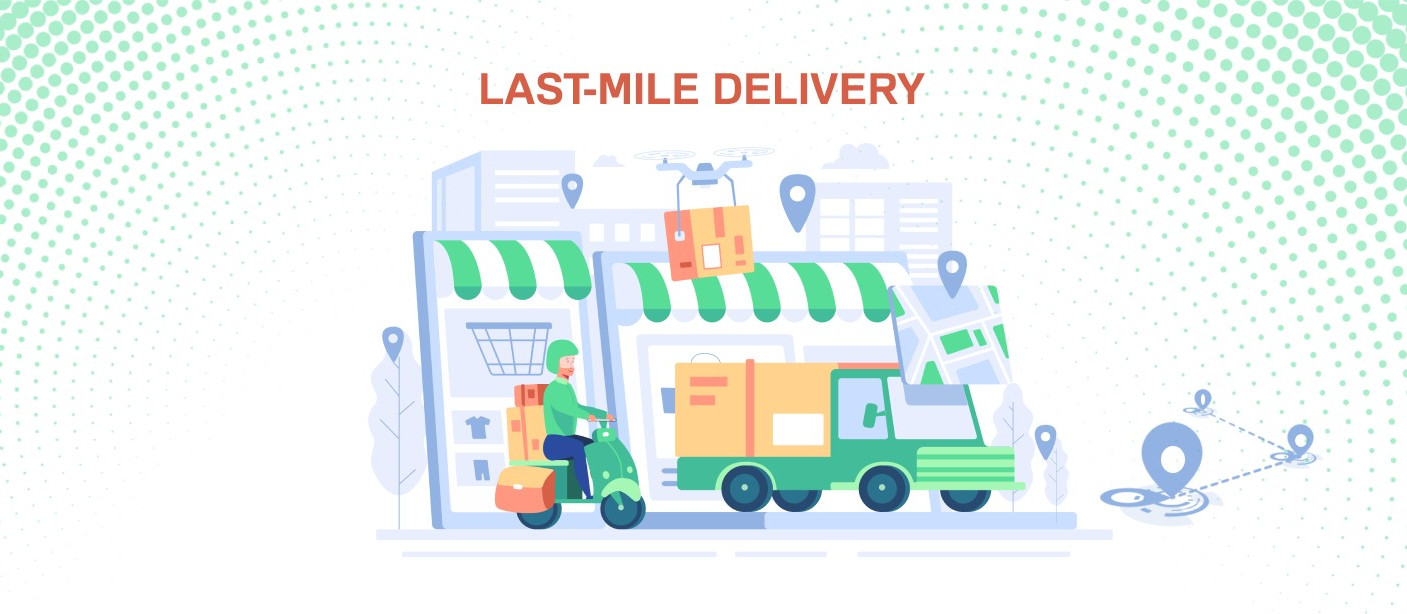 The latest technological advancements have introduced the delivery management system and turn the last mile logistics into a unique solution for many retail and other industry jargon. By the time online retailers are searching for a cutting-edge solution for perfecting their delivery processes, the last mile delivery system proved to be a boon. A delivery system can make your operations fast, secure, efficient, and effective. By dint of creating a delivery space, a business or enterprise can initiate a definite order management cycle. This blog elaborates on the various prospects of last-mile delivery such as what is the last mile system, the challenges it includes, and ways to solve these risks. This is a significant way to improve customer experiences and deliver efficiently.
Introduction to Last Mile Delivery and How Is It Relevant?
Final mile delivery can be defined as the last-mile delivery logistics system that enables the seamless transportation of goods and services from the delivery hub to its final destination. It has been a crucial delivery model that conveys products or packages to the customer. The process is subjected to quality maintenance, efficient delivery, and a potential delivery management system. As per the McKinsey study, the global delivery system has approximately reached €70 billion.
The 21st century has seen the increasing significance of perfecting final mile logistics. The online shopping system is now adopting more smart delivery methods for the efficient and swift delivery of products to end customers. Besides serving a crucial section of customer retention, it has also become a challenging aspect of a logistics system.
What Are The Different Challenges of a Last Mile Delivery?
Incomplete deliveries
There are times when customers face incomplete deliveries or even late deliveries. However, there lay certain reasons behind these issues such as traffic congestion, crowd, improper address or name, unavailability of customers to receive or sign parcels, and many others. This can become a serious matter and can lead to more expense in resolving them.
Increased customer expectations
With the rising smart technology innovations, customers are expecting same-day delivery of parcels. Online shoppers have acquainted with the latest techs and thus, online ecommerce and retail platforms should adapt to the current scenario to keep pace with the competitors who have already opted for the last mile delivery software that enables the systematic delivery of products within a delivery business ecosystem. The short summary is that customers desire for quick delivery of products but without much paying for it. This is a critical challenge to cope with the changing expectations of online shoppers and also maintain cost-effective delivery of the product.
The efficient delivery software solves this issue as it comes on an affordable budget. The main feature of this system is that it helps in integrating different management schedules within a single platform. From inventory management to billing, automating task allocation to efficient delivery, all these are the substantial benefits of the fleet management system.
Maintaining transparency
Nowadays, online shoppers almost purchase all items and look for real-time visibility of their order. They expect live tracking of their online orders, receiving expected delivery arrival notifications, last-mile delivery updates, and so on. This problem is solved by the logistics tracking system that helps to administer complete real-time tracking of the online orders. It provides order status details to the customers so that they can keep track of every movement of the package. Top ecommerce and retail brands have implemented this delivery management system to proffer real-time updates to customers to let them acknowledge all order status.
Additional fuel surcharge
When it comes to long-distance delivery, an additional fuel surcharge can add to the overall cost of the delivery. Delivery locations to sparsely populated areas can turn up to be a significant issue.
Effortless delivery
Another relevant aspect of final mile delivery is giving responses to customer inquiries relating to deliveries. The delivery software enables customers to make special requests about the deliveries and maintain complete transparency between the delivery personnel and the recipient.
Managing manifold fleets
One of the global leaders of the online business, Amazon has its own fleet management system. However, there are a number of online businesses that utilize external delivery fleets with multiple carriers. Thus, the carrier logistics company will be able to offer customers quality and efficient delivery during the course of time. It helps in managing multiple fleets in a single day.
Delineating The Solutions for Last Mile Delivery Logistics
Effective inventory management system
Are you looking to provide efficient order and Delivery management software? Then your search ends here. As one of the primordial steps to achieving the effective final mile delivery solution, having management software is extremely crucial. This makes easier tracking of online orders and tracking the delivery system.
Adopting a premium delivery solution
Even if online stores opt for a click-and-collect system for all orders, a robust delivery system is required to maintain the ultimate operations of a business or enterprise. With the implementation of a cost-effective approach, an enterprise can regulate and control all business functionalities using a single platform. The software will enable you to do more deliveries in a single day with route optimization features. Therefore, multiple orders can be initiated maintaining the effectiveness of the delivery process.
Real-time delivery updates
Previously, as customers placed an order, they had to wait long for their packages to be delivered. At times, some brands give delivery slots and customers have to wait during that slot. This traditional delivery is replaced by the final mile delivery software as shoppers can get access to the order status and check it. Additionally, they can track the order with a real-time tracking delivery system.
Advanced data analytics
A good analytics system helps you to get effective data of the deliveries, customers, billing, and many others. The inclusion of the advanced analytics system assists the ecommerce business retailers to enhance their last-mile delivery functions. It helps to inform organizations about the customer-specific delivery systems. Additionally, the route planner focuses on the best delivery routes available by navigating the GPS having insights into the regional infrastructure.
Why Deliforce is a Last Mile Delivery Competitive Edge
Deliforce has come up to be the best last mile delivery software that has helped many online businesses to begin their fleet management system. A number of functions have been made expedient with the incorporation of the system. From automatic driver dispatching to centralizing all logistics data all can be operated easily; automating route planning to administer real-time driver tracking; improving driver communications to automating status updates and monitoring driver performance.
Enhance Final Mile Delivery Solutions
The only way to boost your last mile system is through effective optimization of its features for business requirements. In this fast-paced competitive market scenario when every online retail and ecommerce platform is fighting hard to reach a higher target audience, this delivery management system can serve to be a boon to them.
Conclusion
Are you on the lookout for the right delivery management platform? Deliforce is one of the premier logistics management systems that give a single-roof solution to all your fleet managing activities. By means of the effective application of the fleet tracking system, organizations and businesses can boost their work efficiency, productivity, business growth, and customer satisfaction.