Boosting Delivery Management Business with AI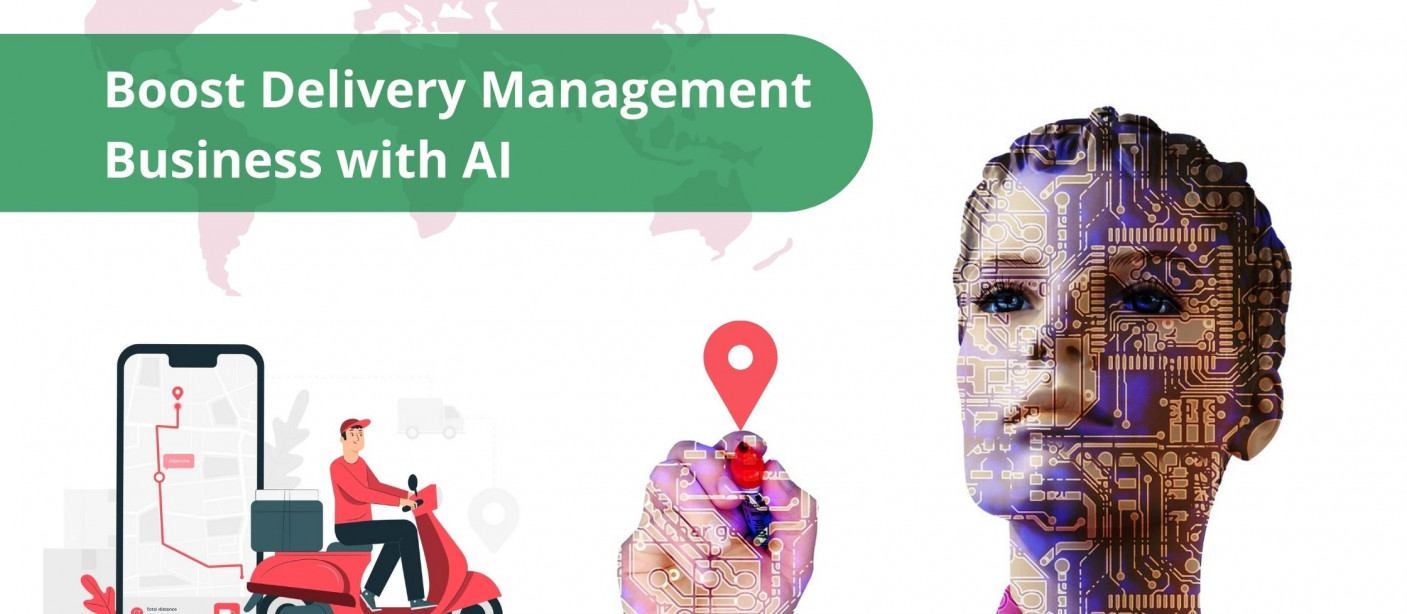 Nowadays due to advancements in technology every business including delivery management business wants all the business operations to be done easily and efficiently. As a result, Artificial Intelligence (AI) has been integrated into the delivery management business for seamless supply chain management to boost the efficiency and productivity of the business. AI has great potential to transform your business by streamlining all the operations thereby helping in smooth functioning of your business.
AI with chatbots helps a lot in the delivery management business as they can answer the queries of multiple customers simultaneously on a real-time basis. Integrating AI in the delivery management business helps you in automating tedious tasks and lets you focus on the other major activities related to your business. Below given is a list of points how AI plays a key role in boosting delivery management business.
Chatbot assistance
Today chatbot has become a key element of delivery management software enabling the businesses to answer queries of customers on a real-time basis. According to a research, by the end of 2020 almost all entrepreneurs will use chatbots in offering online solutions to the customers as it can handle queries of the multiple customers simultaneously. Even chatbots can streamline the process of procurement. Chatbots can also initiate purchase requests, tackle customers and suppliers, file invoices and make things automated and much simpler.
Route optimization
Artificial Intelligence assists you to find the shortest delivery route quickly. It processes data and utilizes algorithms to predict many supply chain processes. AI keeps tracking the exact time when the order is picked up from a particular location and then offers the optimized route to the delivery agent so that the driver can reach the desired destination on time even during heavy traffic. AI also sends alert notifications to drivers regarding fuel, parking locations, etc. depending on the route they are travelling which helps the drivers to save fuel and time.
Read more:

Importance of a Delivery Route Planner in your Business
Automation
AI makes use of data analysis, virtual assistants, and augmented reality for streamlining the business operations. Also, Artificial Intelligence (AI) has an excellent memory so that it can learn from the past errors and minimizes the scope of human errors. The most interesting aspect of AI is that it can also analyze customer interest and makes you know which products will get more demand. It also helps to assign tasks to the agents depending on availability, distance, and priority. You need not schedule or assign tasks to the agent and even task allocation becomes easier.
Smart warehouse
It is highly difficult to track and sort items on a daily basis. Here Artificial Intelligence (AI) helps to track, sort, and manage items by dividing into various groups. Coming to the delivery of goods there are many factors which cause delay like unfavourable weather, unavailability of delivery agents, difficulty in delivering the product to the destination, etc. In such a case, Artificial Intelligence in delivery management software assists you to have a proper team throughout the process. AI updates everything into the cloud and lets you know about the products and their scheduled delivery dates.
Detects risks
Many popular supply chain companies use AI to find potential damages and detect risks. AI can avoid operational delays, organize high volume of data and make clear decisions. AI analyzes critical errors at the early stage which may cause huge loss to your business. Artificial Intelligence (AI) can even analyze your competitors, predict the future of your business and help you stay ahead of the competition. Hence, Artificial Intelligence plays an important role to boost your delivery management business.
Improved productivity and efficiency
AI can help the business of supply chain management to be done more accurately and efficiently. Many ecommerce companies have already used AI to meet customer expectations and earn more profits. AI helps in performing many tasks automatically like sending messages, emails to the customers for real-time tracking of their product, manages datasheets, dealing with supply inquiries, etc. to enhance efficiency and productivity of the business. Thus delivery management business with AI reduces the manual work and helps to increase the overall ROI of your business.
Read more: 7 Effective ways to increase your delivery efficiency
Precise decision making
Delivery management business with AI helps to make effective decisions and assists in meeting your business goals easily and quickly. It helps in hassle free delivery of products to the customers without any delay. As Artificial Intelligence has many benefits many shipping and logistics companies are already using AI in their business to streamline their business and experience smoother operations.
Minimize response time and cost
It is highly expensive to invest on chatbots that run on AI but still it is worth considering as it ensures high return on investment. AI enhances quality of work and minimizes wastage. There are many delivery management companies that are utilizing chatbots in order to get automated responses. It also enhances inventory management, connectivity of third party agents, thereby minimizing response time and cost.
Conclusion
Delivery management business needs a lot of resources like manpower, money, etc. to have seamless supply chain operations. In order to resolve all the challenges faced in the delivery management business, Artificial Intelligence (AI) is being used enhancing the efficiency and productivity of the business. Deliforce is an ultimate SaaS-based delivery tracking and management system offering end-to-end last-mile delivery solutions in almost all industries to the clients globally.