Overcoming last mile delivery challenges: how Deliforce can help CEP companies succeed
One of the greatest challenges faced by e-commerce companies is the proper management of complex logistics. As e-commerce is rising for consumers, businesses are confronting major difficulties in handling the logistics involved in order fulfilment during the last-mile delivery process. With a view to address these challenges, different companies have turned to 3PLs (third-party logistics providers)and so forth with express, and parcel. These companies have their own onset of challenges that are capable of impacting their capability to administer high-quality service to their clients. As per the latest report it has been seen that businesses have faced many challenges in meeting the on-time delivery of products/goods. Therefore, it was necessary to meet the demands of consumers. Last-mile delivery is the best solution that will not only help businesses to grow but also satisfy the on-time delivery of parcels/couriers. In this blog post, we are going to emphasize overcoming the various last-mile delivery challenges with Deliforce.
Companies deal with different difficulties
The slow growth of companies combined with competition from digital-first startups is one of the main challenges. This can turn out to be a big obstacle for CEP companies. CEP companies are highly dependent on SMEs, the growth of merchants, and so forth. These kinds of businesses demand swift services. Additionally, manual entry and processes are long outdated. This leads to discrepancies as well as hinders the digitization of records. It indirectly impacts the customer experience causing inefficiencies.
As a result of complicated and rigid software CEP companies are losing revenue. Herein lies the importance of multiple technologies for distinct phases of the order-to-door journey resulting in operational inefficiencies, reduced customer satisfaction and high costs. With the passing of time, expectations of customers for transparency and reliability are increasing demanding faster and more reliable deliveries that satisfy customer's needs.
In this world of digital solutions, it has become an excruciating concern for consumers to see everything online and receive updates even with deliveries. With a view to overcoming these challenges, the industry has had to embrace digital solutions, automate processes and enhance communication for advancing satisfaction and revenue growth.
Streamlining last mile operations with Deliforce
Deliforce is one of the best last-mile delivery portals that enable merchants to arrange multiple deliveries comprising shipping orders, tracking orders, and receiving electronic proof of delivery. It offers a single dashboard for managing all your orders from multiple channels saving you time and money. Beginning with small to medium-sized retail companies, Deliforce offers delivery management solutions to a wide range of businesses. It is the best platform for courier delivery companies looking for digital transformation. It can help companies and businesses in growing and maintaining revenue.
Deliforce offers real-time viewing of location and booking order details, real-time tracking of couriers and gives a completely transparent approach to business solutions. With the help of last-mile delivery, businesses can also reduce the chances of lost revenue. It provides a fine dashboard where drivers, customers and managers can have their respective portals to check the movement of deliveries. Streamlining business operations can be really tedious and Deliforce is present to assist you to automate bookings, digital wallets, and payments, automating delivery operations, reducing manual paper-based systems, and simplifying shipping processes. One can benefit from automatic label generation simplifying delivery processes and reducing errors. CEP companies will not only benefit from last-mile delivery processes but also they will be able to evince a better delivery process with simpler management.
High-End visibility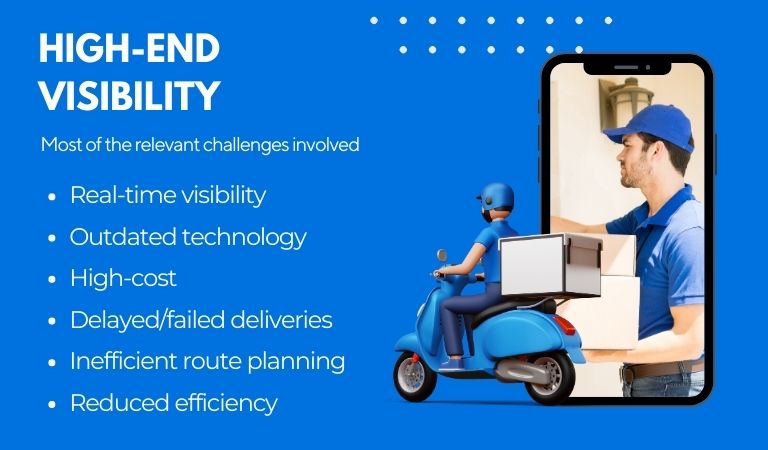 Deliforce offers high-end visibility as well as exception management on a single platform. This enables users to track shipping and fulfill order performance in real time. One can monitor key metrics including carrier usage, delivery times, and shipping costs for making an informed decision. Additionally, Deliforce provides readymade integrations and plugins with ecommerce portals including Shopify and Bigcommerce for making it easier for managing shipping operations. The platform administers detailed reporting and analytics enabling you to monitor shipping as well as order fulfillment performance, optimize cost, and target specific customer segments.
Most of the relevant challenges involve:
Real-time visibility: In the absence of real-time visibility, it becomes extremely difficult for CEP business partners to visualize delivery and shipping plans.

High-cost: As a result of excess expenditure, CEP businesses faced a loss of revenue.

Outdated technology: Conventional approaches to shipping operations have become outdated nowadays. In order to cope with the competitive market, it is important for businesses to stay ahead of the curve with modern technology.

Delayed/failed deliveries: Due to outdated processes, and manual operations, delayed deliveries brought negative repercussions.

Inefficient route planning: Route planning is considered important without which CEP companies confront a lot of challenges in business operations.

Reduced efficiency: As time is invested in manual operations and conventional technologies, CEP businesses suffer diminished efficiency in work processes.
How does Deliforce help CEP companies in overcoming last-mile delivery challenges?
Deliforce is one of the advanced and cost-effective systems packaged with rich features as well as easy-to-use functionalities. It renders you centralized control of last-mile delivery operations. When your business can easily automate processes, it will become simpler for the business to grow. Right from route planning to using efficient time for enhancing core business efficiency. It enables users to execute several deliveries with optimized route planning and efficient deliveries. The advanced machine learning algorithms deliver accurate results assisting you in streamlining business processes. One can easily access detailed information regarding the performance of the delivery process and workforce for optimizing future strategies.
Transforming the future of CEP logistic companies
Are you looking forward to expanding your CEP business? Deliforce is the best comprehensive solution that can assist CEP companies in advancing business efficiency, driving business growth and reducing costs. Advanced data analytics assist users in optimizing costs, identifying targets and aiming at customer segments.
Conclusion
As a relevant platform, it offers a complete analysis of data and user behavior. Deliforce is an ideal platform for offering the proper shipping solutions to CEP companies. If you are in the final phase of the network of CEP companies, then Deliforce is your best option for creating a favorable ecosystem that brings a variety of goods to consumers' doorstep by streamlining parcel delivery and automating processes.