Best route optimization software for FMCG industries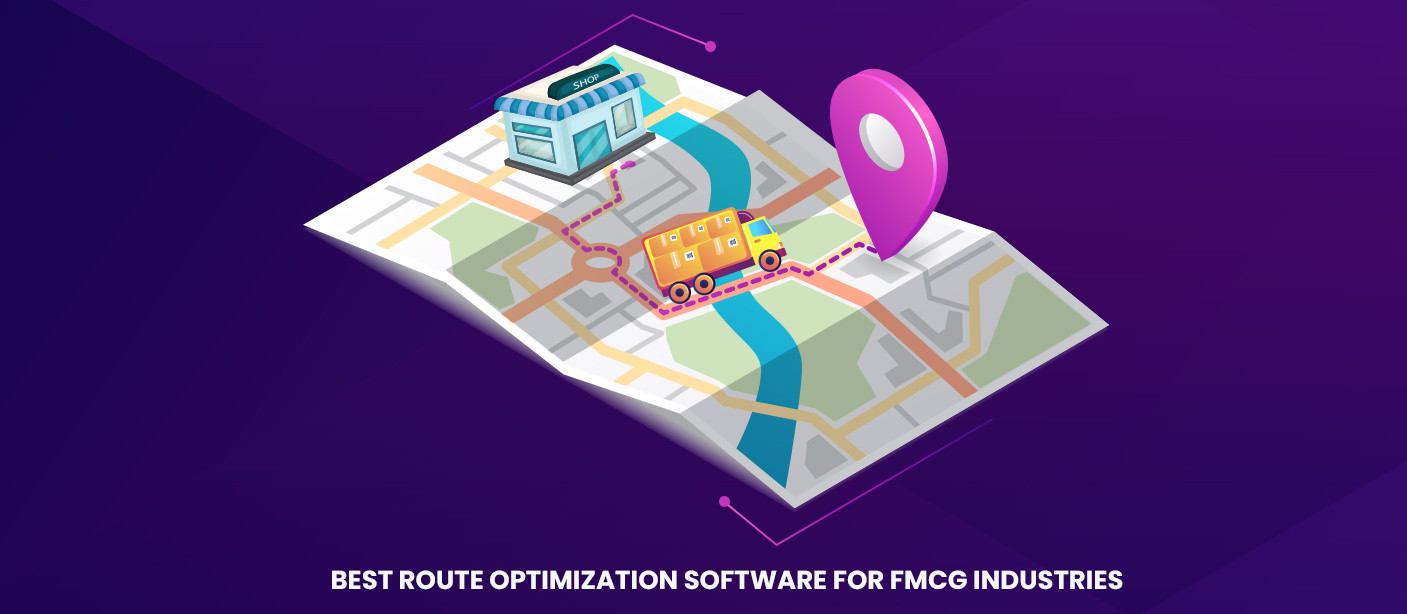 In many ways route optimization functions as the relevant tool for optimizing different operations. FMCG companies are looking for multiple ways to diminish their sales representatives' transport costs. Several companies involved in the supply chain as well as logistics confront relevant changes to business processes. As new companies are coming to market, new technologies are introduced leading to fluctuations in demand and new business models. As rapidly moving consumer goods, FMCG companies depict a competitive market in a globalized world. Retail companies are coping with more demand while dealing with the distribution of wholesale goods.
Logistics companies require a steady and effective supply chain system to optimize the entire process. With the help of covering the route efficiently, delivery companies can view a positive impact on the overall supply chain performance. Route optimization has a positive impact in boosting the productivity of sales by following dedicated algorithms. The advent of route optimization software has led to an increase in the returns on investments. The route planning system begins by finding the best route within budget. This blog will put emphasis on the importance of route optimization software for FMCG companies.
How does route optimization play a major role in FMCG?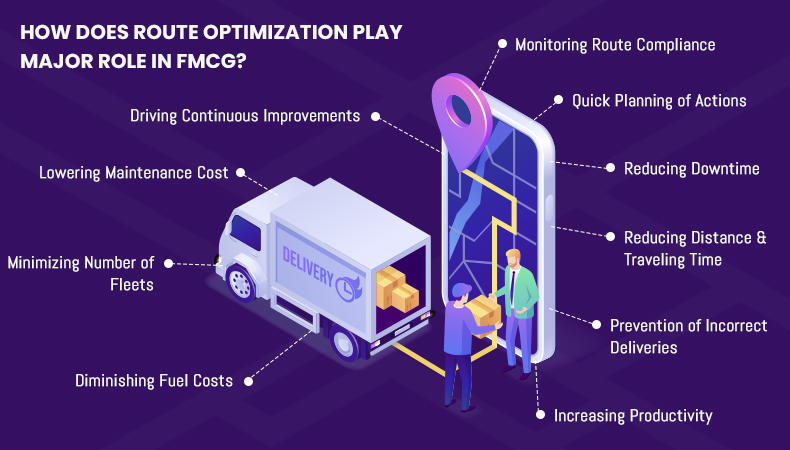 Monitoring route compliance
For making sure that deliveries are made on time, one can keep an eye on inventory for meeting customer needs. It is important to avoid returns that can result in possible loss of business. The route optimization software helps in avoiding possible delays in delivery, changes in schedule and delivery glitches. It helps in better managing customer expectations as well as adjusting on time.
Quick planning of actions
The quick delivery of items is highly crucial for FMCG companies that are involved in selling food and perishable goods. For helping to deliver faster and more efficiently, one can use a route accounting application for scheduling activities and prioritize them depending on different business criteria.
Reducing downtime
The manual operations of scheduling can take up ample time that could have been spent on the road. It results in increasing the overall downtime of vehicles, therefore bringing out the productivity of driver work hours. However, with route optimization software, one can put all variables into the system. This, in turn, rapidly allocates vehicles, routes deliveries and plans in the most possible way.
Reducing distance & traveling time
The route optimization software helps in allocating a particular vehicle to each order and also works out an optimal delivery sequence resulting in an optimized travel route for every vehicle. This implies lesser miles driven on the road and along with significantly reduced time. Thereby, it relevantly brings down the cost of transportation.
Prevention of incorrect deliveries
The effective route planning application is capable of eliminating the errors and flaws involved in manual route planning. Manual processes often lead to delays, glitches and incorrect deliveries, which in turn, can result in expensiveness in the long run. With the route optimization system, the constraints of the business are accountable. According to a specific route plan, the chances of glitches are nearly zero.
Increasing productivity
As the system assigns deliveries to suitable vehicles and drivers in combination with the right skills and requisite work hours, the fleet management system helps in increasing productivity.
Diminishing fuel costs
Having fewer vehicles and reduced stops with the route optimization management system leads to lesser distance traveled and less fuel consumption for each fleet. It also results in considerable savings.
Minimizing number of fleets
The execution of the route optimization system results in a minimum number of fleets delivering several orders at the time of covering the maximum catchment area.
Lowering maintenance cost
For taking less time on the road, vehicles run on the shortest possible route. As fleets are assigned on optimized route plans, they are driven optimally with fewer beginnings and stops owing to traffic congestion. It results in reduced repair and maintenance for the fleet.
Driving continuous improvements
The advanced route optimization as well as delivery control applications that come with combined analytics tools will never analyze real-time fleet operation data. It analyzes the impact of changing vehicle capacity and analyses the financial impact of new decisions for growing business.
Deliforce as the right route optimization software for FMCG companies
FMCG companies are capable of developing mastery of their delivery routes that improve profitability. Deliforce is a top delivery and route optimization software for optimizing logistics distribution and accomplishing more in an effective way. FMCG companies can have major achievements by:
Reducing the number of used vehicles by 35%
Reducing actual driving time by 28%
The diminishing number of miles driven by 45%
Reducing time for planning up for proper optimization
Minimal driving time up to 20%
As the best route optimization software, Deliforce offers a complete solution for managing fleets and deliveries of FMCG companies. Apart from route planning, it also offers real-time route tracking, proof of delivery and an effective delivery management system. The system is well aware of the distance of destinations, proximity and availability.
Final Considerations
Are you in search of the top route optimization software? Deliforce is the leading route optimization software that offers on-demand delivery management and route planning system creating effective optimization of routes so that fleets and drivers can go through optimized routes significantly reducing the time taken for covering destinations, real-time tracking, and reducing overall costs of transportation. The system is highly specialized taking into account the special prerequisites of your customers and also plans the best possible routes.