Unveiling the top industries that use hyperlocal delivery business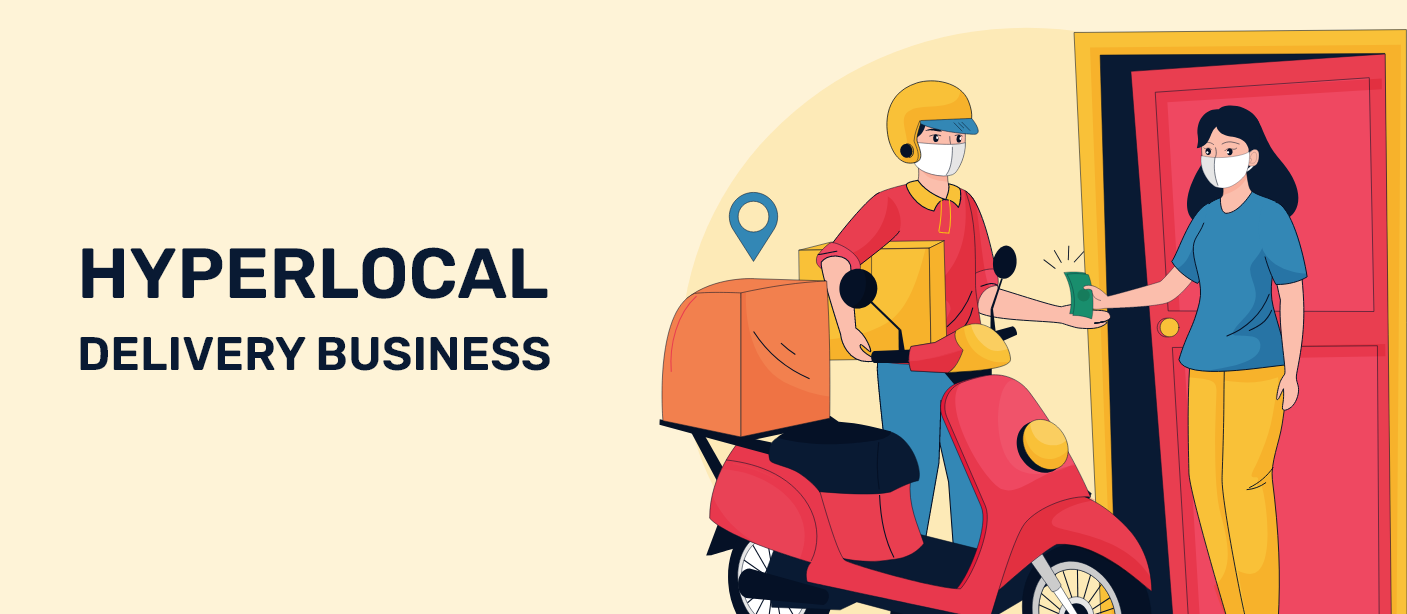 If you are wondering about Hyperlocal delivery, then you need to understand the core of it. It is considered a specialized delivery service administered by restrained businesses and courier services. This hyperlocal delivery enables faster delivery to customers' destinations as it processes within a small geographical area. With the introduction of the on-demand delivery management system, it has become an affordable business model for the ecommerce industry. Several ecommerce logistics service providers are rapidly shifting their focus to implement specialized services in shipping solutions. This article is all about the ways in which hyperlocal delivery services are becoming important across delivery industries.
Hyperlocal delivery services offer customer orders within a given timeframe by maintaining expediency and efficiency. In the case of hyperlocal deliveries, delivery processes are mainly carried out from a remote merchant or seller to the end customer. In bigger cities, order fulfillment can be a challenging task. Owing to the constraints of time as well as distance, order delivery cannot be carried out by brick-and-mortar stores. Hyperlocal delivery ensures that the product reaches the customer within a given time frame.
Top-notch remarkable hyperlocal delivery companies
When it comes to selecting a delivery partner, we need to keep in mind their portfolio and services. Mentioned below is a list of top hyperlocal delivery companies that are highly beneficial for ecommerce business and delivery services.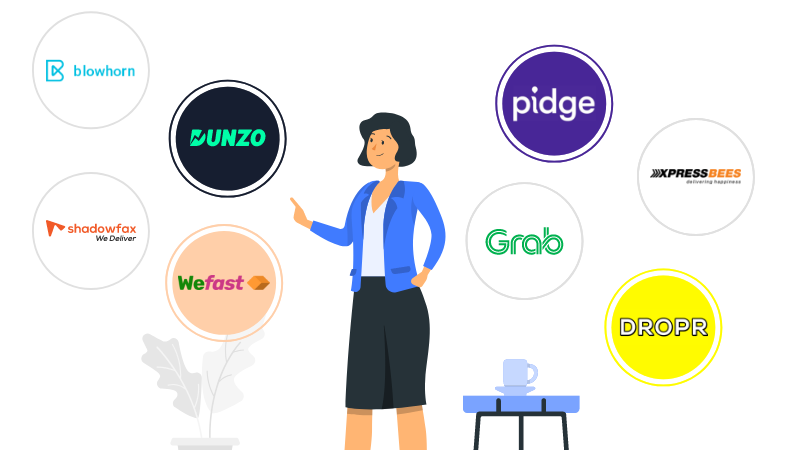 Blowhorn hyperlocal delivery partner
Blowhorn provides intra-city logistics services with on-demand delivery by utilizing a fleet of vehicles enabled to carry distinct load sizes. With many drivers delivering numerous orders over a month, blowhorn has been able to track more than 90% of transportation by 2025.
Dunzo hyperlocal delivery services
Working globally, Dunzo has been able to serve many businesses with on-demand hyperlocal delivery services. Dunzo launched its hyperlocal delivery services after founding in 2014 and working with more than 6000 delivery partners for delivering orders across major metro cities. Several businesses throughout India are using Dunzo hyperlocal delivery solutions comprising popular brands such as Fipola and Blue Tokai. It helps to deliver orders to customers within an hour.
Wefast hyperlocal delivery services
Established during the year 2016, WeFast is a renowned courier brand specializing in quick deliveries. It employs riding and walking delivery agents to fulfill orders rapidly. WeFast provides cash-on delivery services too for hyperlocal delivery orders.
Shadowfox hyperlocal delivery services
Shadowfox is regarded as one of the best logistics companies used by bigger Indian ecommerce companies, businesses and enterprises. It provides business partners on-demand with reliable transportation options and even expresses hyperlocal delivery and slot-based same-day delivery.
Pidge hyperlocal delivery company
Rising as the youngest logistics company in India, Pidge provides hyperlocal delivery solutions in 5 major cities. It is renowned for on-demand and same-day delivery solutions. It enables businesses to opt for temperature-controlled deliveries and cold chain supply management.
Grab hyperlocal services
Founded during the year 2013 and India's first exclusive hyperlocal delivery logistics company, Grab offers on-demand delivery of products/services. It utilizes a fleet of drivers to enable pickup and delivery within a specific range. The company also offers intra-city delivery solutions which makes it effective for growing retailers.
XpressBees hyperlocal delivery services
XpressBees is a renowned logistics company established in 2015 capable of high-end delivery solutions for ecommerce industries. The company utilizes smart transportation for tackling business challenges relating to logistics. This helps in streamlining solutions for on-demand delivery solutions.
Dropr hyperlocal delivery
Dropr is considered a young logistics company administering multi-location delivery solutions. It involves same-day and on-demand delivery. The delivery company has a speciality in administering customers with safety packaging services. It offers real-time tracking for all deliveries comprising bulk orders and corporate delivery solutions.
What are the important ways to select the best hyperlocal delivery company?
The process of selecting a logistics partner is a challenging task as it requires different criteria. This kind of delivery service helps ecommerce businesses for supplying a larger number of orders in locations. With the assistance of the best logistic partner, one can reach customers at great speeds for online businesses. In this context, we are going to discuss the relevant factors that all online businesses can consider prior to taking up hyperlocal delivery services.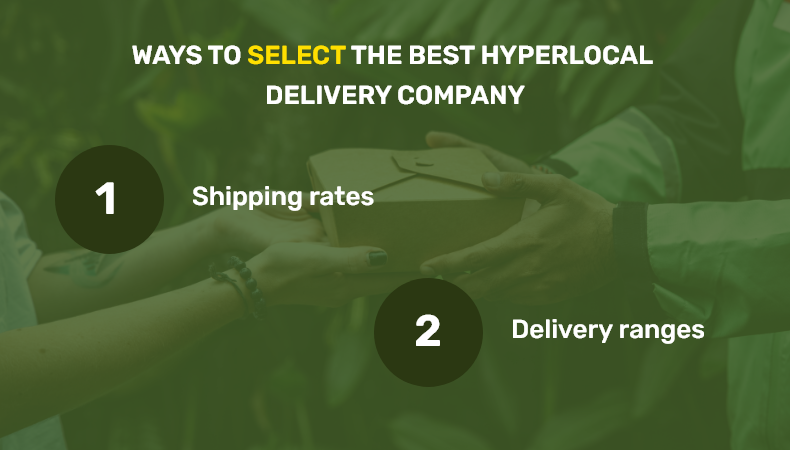 Shipping rates
In e commerce sectors, shipping rates can become high depending on situations. This happens as a result of additional charges, hidden costs, and value-added products.
Delivery ranges
In distinct types of ecommerce businesses, spreading networks by integrating with e-marketplaces and online stores is becoming the best way to enhance their reach. Prior to partnering with hyperlocal delivery courier partners, you ensure that the logistics company covering more locations are actually positive for your business. As the delivery range is more, you get to encompass more customers.
Deliforce delivery solution
Serving globally, Deliforce has been able to widen its network by offering effective delivery management solutions to logistics businesses. It offers efficient real-time tracking, route optimization and inventory management solutions. As a route tracking and delivery management system, it has been in popular usage by effectively optimizing routes and offering the best route for efficient delivery of services/products.
Final thought
After observing the above-mentioned facts and a list of some of the best delivery services, it has become easier to understand hyperlocal delivery services as a business model. Looking for the best delivery management system for hyperlocal delivery solutions? Deliforce is the top delivery management service offering effective delivery solutions for ecommerce and online businesses. Supply chain management and cold chain management evince the benefit of delivery solutions.