Journey of Deliforce and How You Can Become a Part of Us!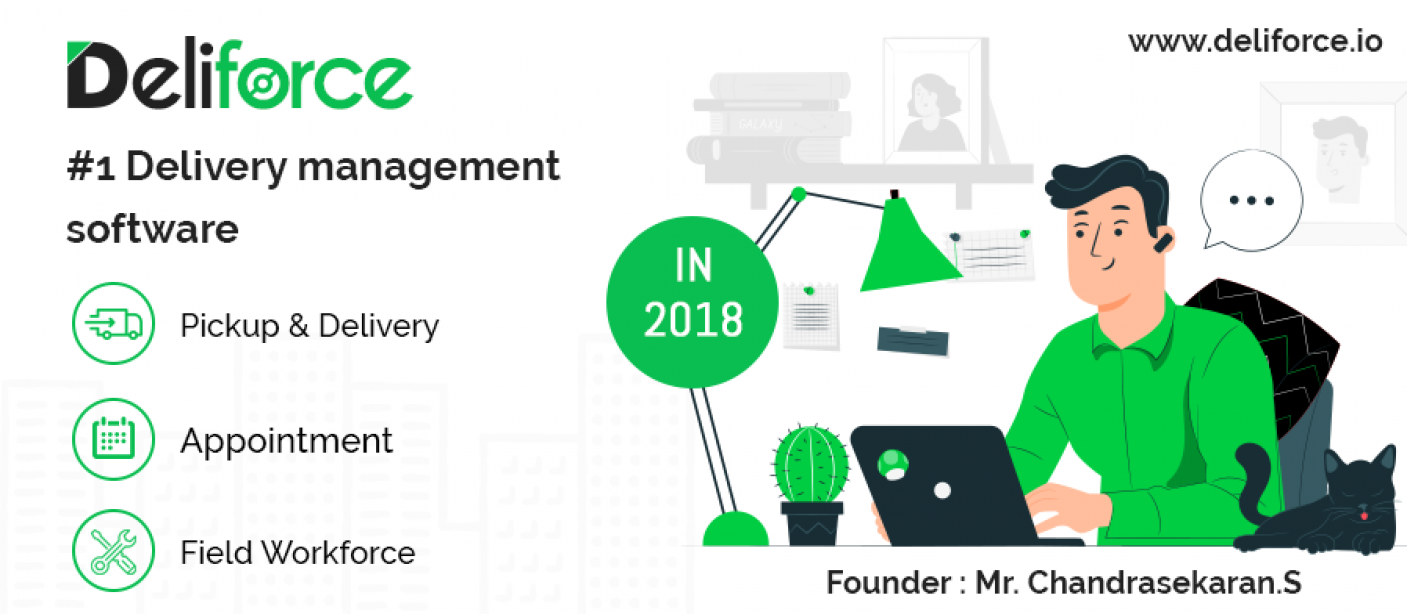 The journey of Deliforce and How You Can Become a Part of Us!
Journey of Deliforce
Deliforce is the best SaaS-based delivery tracking and management system in Bangalore founded by Mr Chandrasekaran.S in 2018. This is the ultimate delivery tracking and management platform for logistics tracking and field force work for a wide range of industries. The last mile delivery tracking and management software help the admin to assign tasks to the agents and track them in real-time. Deliforce is beneficial for the businesses who deal with pickup and delivery of orders in any industry.
As the need for online delivery of products is getting increased the Deliforce team has realized that their business is bound to grow. Every online local delivery business requires an efficient delivery tracking and management system to manage their business operations. With that vision, Deliforce became a leader in its field, with many happy clients worldwide.
Our business growth strategy
We didn't achieve success overnight and we had worked very hard to figure out correct strategies that suit the market. However, our main aim is to create a trustworthy relationship with our clients whether it's an entrepreneur or an organization.
Being honest with our clients is our utmost priority and we maintain all their records, information and other data safe and secure to keep the goodwill alive. We always realize the business requirements of our clients and offer a customised delivery tracking and management solutions which can simplify all their delivery operations.
Why do clients prefer Deliforce?
As our clients are always our priority, we can proudly say that we have loyal and extremely happy clients from many industry domains all across the world. Our clients belong to various marketplaces such as e-commerce, medicine delivery, food delivery, grocery delivery, spa HomeServices, salon, banking and many other industries.
There are many happy clients who are satisfied with our services as our delivery management and tracking system is easy to use and comes up with all the integrated and necessary features required for their business. They can find progress in their business as the real-time tracking feature makes the delivery agents find the exact location.
Some of our reputed clients include Ola, Time, BOX 8, Aquaprime, killgerm, Sonic Delivery Services, Krate, Farm next, Red Ant, Ralali.com, Ontrack, SeaFood Souq and many more. As we focus on offering the best services to our clients, we always have a high ratio of most satisfied and repeated clients all over the world.
Features of Deliforce
Route optimization
The shortest and the best route will be suggested to the agents which results in the maximum number of deliveries in less time. This benefits the admin as well as customers as the admin can get more orders delivered and customers will receive their product quickly.
Automatic dispatch
By using automatic dispatch service you can assign the tasks to the agents based on their availability. This helps admin in assigning the tasks to the agents automatically without prior planning. It saves a lot of time for the admin as there won't be any manual work.
Live tracking & ETA
Customers and admin can get information about the agents through real-time tracking. They can get the estimated time of delivery and view the exact location of the agent on a live map. Customers can know the information if the agent has any traffic issues and any other unexpected problems.
SMS notifications
Customers can schedule the date and time on which the product to be delivered. They will be given updates about the order status, any delay in delivery of their product or any other issues in product delivery through SMS/ Email notifications.
Delivery proof & feedback
Once the delivery of the product is done, the delivery agent will collect the electronic delivery proof along with the e-signature of the customer. Customers can also give feedback about the delivery agents or services. Admin can view the feedback and make the necessary improvements.
Data and analytics management
Admin can view the growth of the business graphically and can get complete information of the completed tasks, delayed tasks, ongoing tasks and upcoming tasks which helps to make efficient business growth strategies.
Why is Deliforce more reliable?
Deliforce is the flexible and on-demand delivery tracking and management software which offers automatic dispatch service and also offers the optimized routes to the agents. It tracks the delivery agents in real-time which helps in reducing the overall delivery turnaround time. It also helps to increase the fleet visibility where admin can track the vehicle's of the agents and can have good control over them.
This last-mile delivery tracking and management system improves customer interaction, reduces fuel consumption, increases the number of deliveries which helps in minimizing cost, time and efforts. It helps in increasing the overall productivity of business which in turn increases the ROI of the business.
How can you become a part of us?
As technology is evolving, Deliforce helps you grow with amazing business growth strategies and flexible delivery management and tracking software to streamline your business operations.
You can contact us through email, phone or skype and we will respond to you promptly. Our business development executives are always available to answer all the queries and offer all the support you need related to all our delivery tracking and management software.
We follow a basic procedure to analyze all your business requirements and you're made a partner in no time. You can also get a demo of our software without any fee. We offer our clients on-demand delivery management and tracking software which can resolve all their business challenges and meet their business goals.
Conclusion
Maintaining good relationships and being honest with our clients is our topmost priority which helps us in getting many happy clients from all over the world. Get an ultimate solution like delivery management software to track your agents in real-time, manage all your business operations effectively, and create good relationships with your customers.