Why is field force management software beneficial for the enterprise workforce: Its major advantages
In today's world, different companies are comprehending the importance of field force for functioning actively. Field sales have different advantages however, sometimes it faces many difficulties too which can be overcome by advanced technologies. As the field force employees went to work, you are of the least idea of what is going on in the field. Field force software is mainly designed to streamline different business processes involved within an enterprise's workforce operations. This blog will mainly focus on the distinct ways in which field force management software actively helps enterprise businesses to streamline their operations right from field workforce management to monitoring field employees' activity for assessing performance.
Digital technology plays a major role in the field force as it keeps the sales and service teams connected. This, in turn, increases the productivity and efficiency of the business. If your main business concern is managing sales and service teams' actions, then it is important to include the functionality of field force management software.
Challenges involved in field force operations
Major challenges are involved in field service management which has been made easier with the fieldforce management software process. Having distinct levels of coordination involved, accomplishing the consistency of field operations on a regular basis can prove to be a real difficulty for companies. Mentioned below are the different challenges involved:
Customer relationship management
Getting first-time fix rates
Measurement of KPIs of field operations & Effectiveness
Adherence to precise scheduling
Management of third-party players
Why fieldforce management software for enterprise field operations?
The Fieldforce management system is considered an extended rendition of field service management used by enterprise businesses to allocate fieldwork to the workforce. This software is highly designed for field workforces so that enterprises' workforce can automate the tracking and monitoring of field operations. With the help of fieldforce management software, enterprise managers can effectively monitor the progress of field employees. This ensures that field employees are completing assigned tasks, ensuring they are meeting clients on time and acquiring the minutes of meeting with the system. A field force management system efficiently keeps track of employees' travel history, activities, and meetings, and the capability to manage daily schedules, submit quotes, update meeting status, and so forth.
Important benefits of fieldforce management software in enterprise business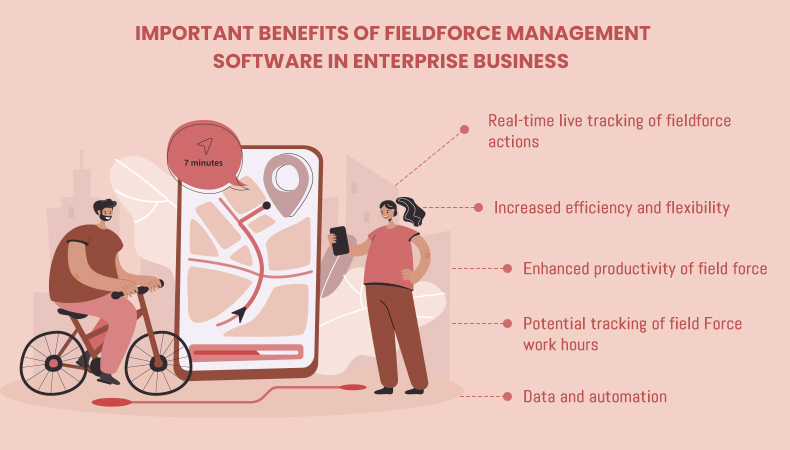 Real-time live tracking of fieldforce actions
The field force management system helps in real-time live tracking of field staff and can monitor team activities. Businesses can easily monitor the performance of field teams through remote tracking. It utilizes live tracking by the app for keeping a record of routes taken by employees. One can receive critical insights into the performance of your employee.
Increased efficiency and flexibility
With the help of field force management enterprises can keep track of field employees in real time. As employees are facing glitches, there are chances that with the system, troubles can be managed rapidly. The prompt action of the app will make operations more efficient. The field force management system is highly designed and integrated with advanced technology enabling connectivity with computer frameworks.
Enhanced productivity of field force
The field force management software keeps exact track of employees' work time and progress which will increase field employee productivity and foster an effective workforce. It has different features comprising app integrations, data reporting, work assignments, time and attendance monitoring, timesheet management, and progress tracking. One can easily track employee productivity in a seamless way.
Potential tracking of field Force work hours
During the field force work hours, it is important to keep track of them so as to assess the monitoring of employees and offer information regarding the timing of different projects and clients. Fieldforce management application keeps a record of fieldforce time spent on tasks and automates payroll processing. It enables managers to allocate tasks and track their time spent working on the field.
Data and automation
Field force management software is advancing rapidly which utilizes field force automation for automating challenging tasks involved in field force. One of the effective features of work assignments is data-based work assignments. Manual handling of operations can often lead to errors and flaws which can be easily avoided by the automation of field force management software functionalities.
Deliforce: Effective field force management software for your business
Deliforce is one of the leading field force management software offering real-time location and helping organizations in the management of the on-field sales workforce. The system assists in tracking location-based details of on-field employees and monitoring their regular tasks. It offers the potential to separately track the field hours of employees working on the field outdoors. When it comes to field force management software, Deliforce has always proved to be the best tool among all to complete tasks. The software has distinct features such as field attendance, meeting check-in/out, daily report generation of field works, location mapping, travel reimbursement, and customer details management. In order to make the process seamless, Deliforce assists in increasing workforce productivity significantly.
Final thought: considering all aspects
An enterprise business has a major field force to work on and operate. Therefore manual tackling of such operations can be highly challenging Nowadays, consumers are aware of on-time delivery which is achieved by strong and advanced tools. The automation of fieldwork with the help of a field force management tool helps to organize sales operations that can significantly reduce overall cost and time. Deliforce is a remarkable field force management system that helps several enterprise workforce operations to operate their field works seamlessly without any hassle. When businesses have a better fieldforce system integrated into them, it no longer remains a thing to worry about as it leads to better business performance and increased productivity.